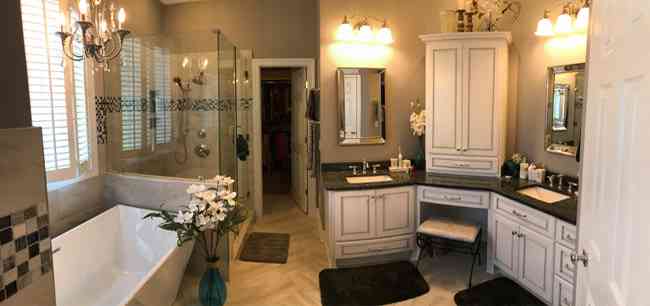 It almost always comes down to space. It may be impossible to share bathroom space if there's only one sink. And in older homes, the shower space can be quite small. Nowadays, families seem to want larger showers that are easy to get in and out of. If you are in an older home, remodeling the bathroom probably means that you need a larger tub and new fixtures too. We always encourage customers to remodel their bathrooms now, while they can enjoy the new features, instead of remodeling right before they sell the house!
Don't go it alone. We sometimes work with clients who tried to remodel the bathroom themselves. If you are considering that tactic, we say DON'T. Bathroom remodels can be tricky – for one thing, it's a small space – it can be labor-intensive to renovate. And considering how compact most bathrooms are – it helps to have someone who can provide ideas for expanding your space. Secondly, a bathroom can be a plumbing nightmare. So unless you're an experienced plumber, we recommend you hire a contractor to remodel your bathroom.
Remodeling a bathroom is a step-by-step process. Because a bathroom is so tight, the best way to remodel is by following a strict step-by-step plan. The plumber needs to get in there at one time, the electrician at another time and then the person who lays the tiles. A well-thought out plan takes each profession into consideration and makes sure the materials needed are ready when scheduled. Timing is critical.
Hire a seasoned professional. You want someone with the proper credentials, a portfolio of projects and references. This same professional should be able to give you lots of ideas.
Here's a checklist to review with your professional.
Your budget. Have a good idea of what you want to spend. This will help guide you when it comes time to making decisions.
Be sure to discuss the timeframe necessary to get a bathroom remodeled. You don't want to be surprised when it's not finished when YOU expected it to be. And realize that the more things you are changing, the more items that need to be ordered, the longer it will take to remodel your bathroom.
The process. Ask how the remodeling will proceed. What steps are taken first? What comes second, etc. When you understand the process, you can get a better idea of the cost and time frame.
Unexpected problems. Is it possible that there are hidden problems in remodeling your bathroom? Depending on the size of the remodeling job and the age of your home, a professional contractor will have a good idea of what he or she has to look for.
Design and functionality. Before you even start the project, you might want to consider saving photos of bathrooms you like, colors that appeal to you, tiles that you like and even fixtures and lighting. By looking at these, the professional you choose can get a good idea of the design elements you like and work these elements into the finished product.
What other elements appeal to you? Some people choose green products when remodeling. Do you have an idea of the flooring you'd like to consider. And then, there are lots of extras that can be added to a bathroom remodel – things like sound systems, TVs and overhead fans.
The contractor you choose will help make some of these decisions easier for you by providing the pluses and minuses of each addition.
Are you considering a bathroom remodel? Let's talk. Give us a call at 843-903-5797. We'll be happy to sit down with you and show pictures of some of the remodels we've done for other customers.